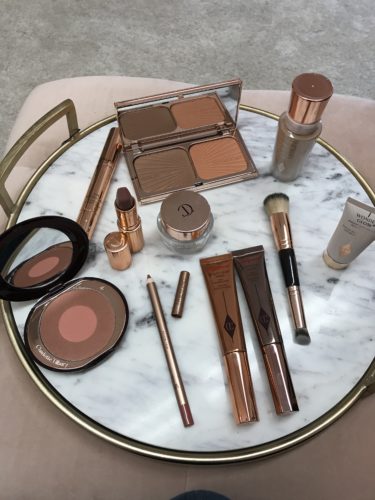 This weekend I went to the mall to pick up a bridesmaid dress for one of my best friends wedding this weekend. This was the main reason of actually going to the mall, until I passed the make-up counters…
I have been hearing a lot about Charlotte Tilbury and I have a few of her items so I decided to look at her lipsticks since I had been on the lookout for a good neutral! Alicia who worked at the Charlotte Tilbury counter was awesome. I told her what I was looking for and she went above and beyond. I had zero makeup on, so she asked if she could use their new highlight and countour wands on me! I was very excited to try it because I'm truly a contour junkie!!
Before the make-up part, she put some Magic Cream   on me- instantly my face looked better. My face was less red, more even, and all my dryness went away!
After, she applied this Magic Eye Cream  I have mixed feelings about eye cream… part of me feels like I'm only 24 and shouldn't have to worry about any wrinkles, the other part of me feels like I should be preventative and start using eye cream now. After trying this cream, I was hooked! I felt more awake, my skin felt soft, and my eyes were bright!
Now to the makeup part… she started off with their "Magic Foundation – Alicia used one pump of foundation on my entire face! It felt so light compared to other foundations I have used before.
Following the foundation she used a light touch of Air Brush Powder

I already had this at home so it was nice to see it worked into my face!
I have used Chanel concealer for years and I haven't found anything I liked better, until this weekend. OMG- I love this Concealer Stick

Alicia applied it under my eyes, on a few pimples I had on my chin, above my lips, a little on my nose and above the eyebrows. I already felt better and my make-up was still lighter than normal!
The fun part has arrived, these little glorious wands of wonder! She first used Countour Wand
she made small dots a long my cheek bones and top of my forehead, then she used the Highlighter Magic Wand
OMG OMG OMG! Really… this is the best highlighter I have ever used!
Fun Part, Part 2! This Highlighter Duo Powder

made this whole look perfect!  This is really not the best photo of me, but this was five hours after she applied and I was about to wash my face! Just look at that highlighter, I still really couldn't get over it.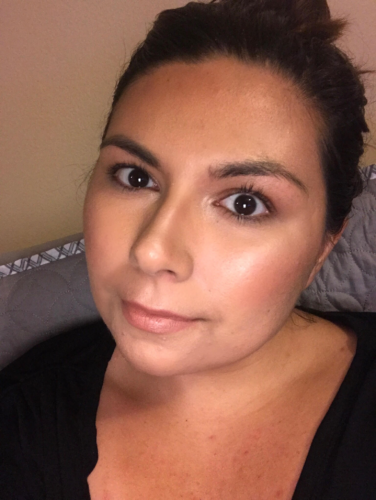 Alicia finished it off with a little blush, again guys… I have used the same blush color for years and THIS

was more perfect than I could have imagined… I'm thinking because of the darker color with the blush in the middle it blended with my face a little better… Not 100% sure, but whatever it is I'm digging it!
Now, for what I really came in for… Lipstick

– I really loved this color, its perfect for fall and all the cranberry and blush colors I have been wearing recently! She also used this Lip Liner

to tie it all in together…
I did also end up getting this BRUSH

for my foundation and the smaller side for the highlight wand!
This gift set is a great deal! Perfect gift for Christmas!
For all of the Holiday events I have coming up, I was so excited to find this and have this go-to "face" that literally took less than 15 minutes… what do you guys think?