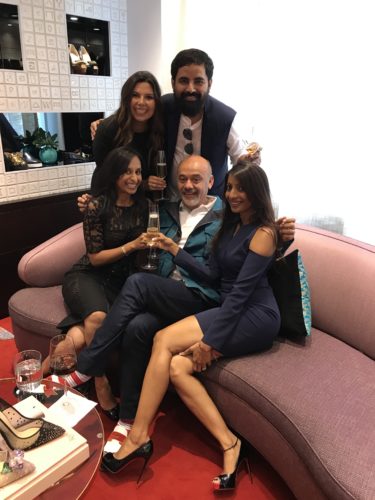 Oh my gosh… one of the Top 10 Moments of my life happened this week… I had the opportunity of meeting Mr. Louboutin and Indian designer Sabyasachi. For those of you that don't know me, my mother is from Michigan and my father is from India. It was so awesome to be at an event that included part of my culture.
So many different emotions filled me that day. I had admired Mr. Louboutins work since I was a child, dreaming about the one day I would finally have a pair of those red soled shoes! That day came one day during my freshmen year of college when my Grandmother(whom has passed away since) surprised me at my dorm with these gorgeous open toed pumps! Fast forward to six years later and here I'am about to meet one of the most iconic designers of the world and one of the most iconic in India in the same shoes that my Grandmother from India gave me… It was awesome.    
I have this dress in a million forms, one with ruffles, one with peplum sleeves, I love them! They are perfect for work and for going out!

Ok- let's skip to the shoe part. CL and Sabyasachi partnered together after meeting in 2015 in India while CL was opening his new store. They told us that when they met, Sabyasachi was wearing "chuples" which is like our version of Rainbows and that his feet were all muddy because of the rain. When he walked into his store just to check on something and saw CL there and freaked out, here he was about to meet the "shoe king" and he had chuples and mud on his feet! It was such a great story because you realize that even though these two are extremely talented, they are still just people.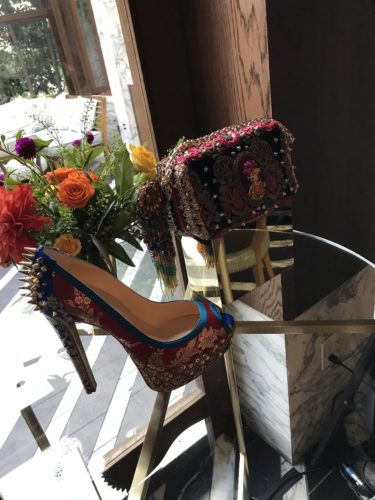 There were only about 40 people at this event and somehow my aunts and I sat right next to them! We laughed about different things that happen in India and Bollywood, Hiking Griffith Park, and the best part was when CL joked about his own shoes being "luxury" shoes and not meant to walk in! Shortly after, we walked over to the CL store, opened up a bottle of champagne and went upstairs to start shopping!
CL x Sabyasachi made less than 10 pairs of each shoe, so not even one in each size! Some shoes were shipped to the Bloomingdales in NYC, CL in Paris, Harrods, and Dubai! There was such a limited quantity, I thought I might not get a pair… Then, they brought out these!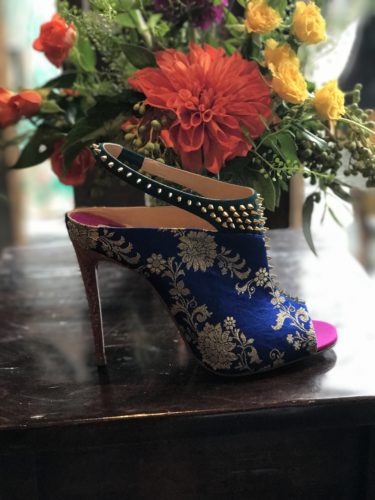 (I actually took this photo when we first got there, I loved them so much!)
I FELL IN LOVE! They are so different and unique, but what got me was that they remind me of my Grandmother. This whole event went full circle to me when I bought a pair of shoes that reminded me of my Grandmother when six years prior my Grandmother bought me my gorgeous shoes because they reminded her of me. I would have never dreamed that just a few years later I would be sitting next to Mr. Louboutin with two of my fabulous aunts having a glass of champagne. It was honestly a dream come true.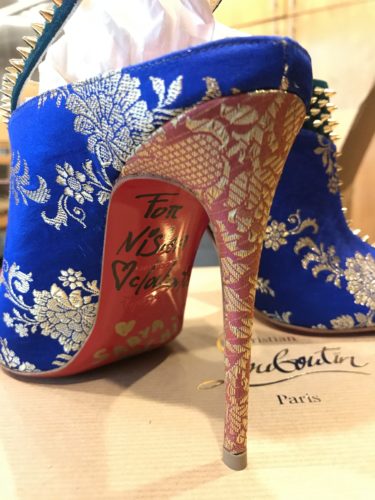 I will treasure these forever.