Happy Thursday!! I hope everyone had a great week! We were super busy, Phillip has been getting over a cold he got last week and with all of the content I have been preparing for the month of December it just doesn't seem like we have gotten to relax! Oh well- we both love owning our business and our jobs!
Today, I just wanted to share a little view into my normal hair routine! I was born with lots of very thick hair, when I was younger I hated it but now that I have gotten older I love it! Doesn't it always happen that way? My hair can be very hard to manage though, especially as it gets longer. There are a few products that I have been using constantly for the last three months and it has seriously made a HUGE difference.
I will start with Step 1:
This BRUSH is seriously amazing and it makes a huge difference. I always brush my hair before I wash my hair and after, then I wrap it up in a towel for 10-15 minutes and then start my blow dry!
Step 2:
***Clicking on the images will not take you to the site, I have included where I purchase my Monat products on the bottom of this post. I included a photo for the product so that you could get a visual of what each item looked like and the name for you to add to your cart!***
Monat Hair, have you guys tried this stuff!? I was very hesitant at first, but I LOVE IT! P.S. I do not sell Monat nor do I get any commission by referring this to you, I just know that it has made my hair beautiful and it can do the same for you!
This stuff is addicting! I actually purchase the Volume System, this includes my shampoo, conditioner, and also the root lifter! All three are my go to products.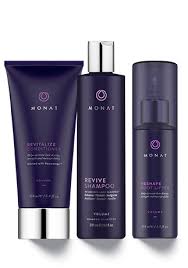 –Once I get out of the shower and let my hair be wrapped in a towel for a few minutes I take it down and spray some of the Monat Root Lifter just at the root of my head. I swear this stuff gives my hair so much more natural body than it ever has had before! Keep in mind that I have heavy, thick hair so if it can do this to my hair it can help anyone!
STEP 3:
After I spray my Root Lifter, I use THIS It really keeps my hair healthy and shiny! Its also super light weight, which makes it great for travel!
STEP 4:
My FAVORITE product of all time… this CURLING WAND I have never found anything that holds my curls ALL DAY and sometimes multiple days. It get super hot which helps me because otherwise my hair would take 30+ minutes to curl. With this wand it takes about 15!
STEP 5:
This TEXTURIZING SPRAY just takes my hair to the next level with added dimension and volume! I cannot explain to you enough how much I love this product!
A few days later… My favorite dry shampoo has to be my Monat Dry Shampoo! This can also be bought on the link below!
https://amandacarroll.mymonat.com/
I LOVE hearing your feedback so don't hesitate to DM me or leave a comment on here!!
I hope you all have a fabulous weekend!
XOXO,
NMC