I really love Valentine's Day! It is a day that I can wear red and pink together and no one looks at me confused! LOL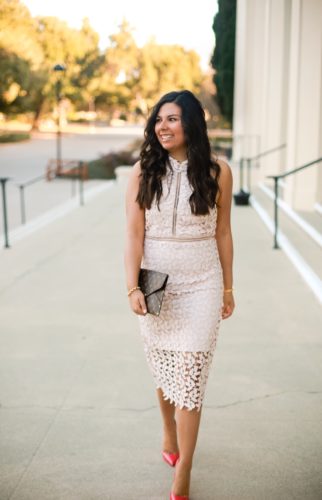 DRESS

SHOES

SIMILAR SHOES

SIMILAR CLUTCH

Today, I'm sharing my top choices for Valentine's Day! I'm so excited because my parents get back from India the day before so Phillip and I are spending it with them! I know that may seem weird to spend Valentine's Day with their parents, but I love them SO much and seriously miss them terribly!
We all "spruce it up" a little bit more on this day, but I still want to be comfortable! I'm sharing my favorite pieces!
VALENTINE'S DAY PARTY OUTFITS
A.                                                                  B.
                                C.                                                                      D.
                                 E.                                                                 F.
I personally own a few these and honestly they are all my favorite in some way! If I wore a red dress than I'm going to pair it with some sparkly heels or nude, with a classic clutch! If I wear black than I will 100% wear a red, gold, or sparkle heel! Just something fun to add to my outfit! Here are some of my favorites!
CASUAL DATE NIGHT LOOKS

       

Phillip and I are actually celebrating Valentines a bit early this year by going to our favorite movie theatre! I will be wearing those jeans, a red blouse, and my favorite heels! The gold pair of heels that I have linked are an investment piece, they would also make a great Valentines gift! Wink Wink! But, I also love the black ones and they are much more reasonable!
I'm doing a giveaway this week and can't wait to share with you this week! Make sure you follow me on Instagram @merchantgirlofficial for all of the details!
XOXO,
NMC