Every year my in laws host the Miss Fontana Scholarship Pageant! Its a great organization that focuses on helping young women in the community! They are able to get help with interviews, resumes, different internship opportunities, and so much more! Most of the girls usually get jobs within the community that they would of never even applied for in the past. This past weekend was Miss Fontana and its a long week for the whole Cothran Family, but so rewarding.
I have to admit, I was dreading trying to find a dress for this event because I really don't like maternity dresses and my sisters literally look gorgeous! They always wear the prettiest dresses and I just don't think "pageant" dresses look good on me, so I usually stick with cocktail attire like my mother in law! Needless to say, I was a little stressed about finding a dress… but I did! I actually found a few and I thought I would share them with all of you! The one I wore was a last minute decision! I have been going through my closet and found this dress from literally six years ago! But, it doesn't have a zipper and is stretchy. I'm linking two similar ones because I know I bought mine on sale and unfortunately it isn't on sale right now.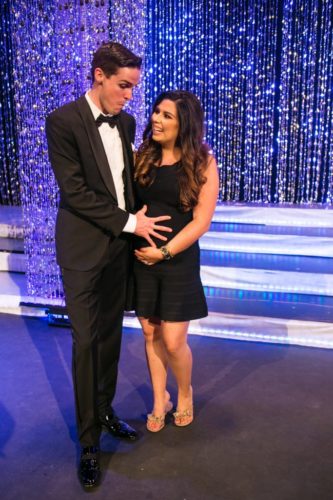 (I had to change into sandals after the pageant, I just couldn't do it anymore LOL)
DRESS

SIMILAR DRESS ,Phillip's Tuxedo

HEELS

 SANDALS

MATERNITY FRIENDLY DRESSES
(I did go one size up in all of these dresses)
This dress was really comfortable, but honestly all the ones I ordered were comfortable! I knew I wouldn't want to have to sqeeze into a dress after being on my feet all day! Good luck to all you mamas with weddings and showers this summer!
XOX,
NMC