Twenty weeks with you, baby girl!
WOW. I literally can't believe we are half way through this pregnancy. This whole experience has been such a whirlwind. Some days felt long and most days just speed by. I can't imagine what life is going to be like when she is here!
FIRST 20 WEEKS
the worst parts
These were rough, not going to lie to anyone. I was very nauseous up until about Week 14. I'm pretty sure from weeks 6-8 I worked three days a week and slept the other days. I never knew how much I loved my husband until starting this chapter with him! He completely took over my part for work while I was out of commission for the two weeks that I wasn't feeling good.
My back started really hurting me early on in pregnancy, which caused me to not sleep most nights! I would try to fall asleep around 9 P.M. and would wake up by midnight, then 2 a.m., and then again at 4 a.m., and then I would sleep until 7 a.m. and get up and get ready for work. I realized that pre-natal yoga was going to save me during this pregnancy early on! My doctor had advised me not to workout until my second trimester, so I was restricted to yoga and walks with the dog!
Any one out there with fibroids while pregnant!? WOW. My very first appointment my doctor told me I would get cramps and they could get so bad where I feel like something is wrong. She wasn't kidding. Not only was I experiencing the cramping of my uterus growing, but I had these awful cramps as if I was starting my period. It was scary and one day I actually did call my doctor. She told me to come in right away and when I got there they put a heart doppler on me ASAP. It took about one minute for them to find her heartbeat and let me tell you that was the longest minute of our life! Everything ended up being perfect, but it was a scary time where I had to rely on my faith and what I had felt like God had already told me.
My skin! Some days my skin looks amazing and then the next three days it is awful! On the days that it is awful I have found that washing my face with just water works better than my cleanser. Which is so weird to me!
**TMI**
Your boobs! Oh my. They hurt so bad. Especially in the beginning! I was the first one to always take my bra off right when I got home! Not anymore, they need support now! LOL I found the best STRETCH CREAM SET one is for the boobs and the other the tummy, even though I use the tummy lotion on my legs, butt, everywhere! No stretch marks for this mama!
the best parts
TELLING EVERYONE!
Oh my goodness! It was so much fun to tell our family! This is the first grand-baby or great grand-baby on my side of the family and you can tell! Phillip and I didn't tell everyone all at the same time, but mostly people individually! It was so fun to tailor each announcement with the individual. I'm hoping with my next pregnancy I will be able to do something cute for Phillip! This time it was such a surprise to all of us that I'm pretty sure he knew before I did!
Hearing her heartbeat!
I wrote about this more in depth in a previous post, but I felt that this child was a girl from the beginning. After that first appointment, it felt so real! I have a human inside of me!  I feel such a close connection to her already! I can't wait to see Phillip and her together! A lot of people have asked me if I'm ready to share him because this little girl is going to be wrapped around his finger! My answer is always the same, I hope she is just as close to him! I have the greatest relationship with my Dad AND my Mom, which I think was so much of a reason why I really wanted a girl first!
Feeling her move!
That may just be the best thing ever! The other day, my Grandma started talking to her and she totally moved! She usually just moves when I'm laying down or sitting, but I was standing up! I'm pretty sure my Grandma almost cried. I don't think she could feel her yet, but she knows who her Gigi is! The first time she moved it tickled me, it felt so funny! People tell you it feels like butterflies, but what they forget to mention is that you just feel them where she is- not over your whole belly!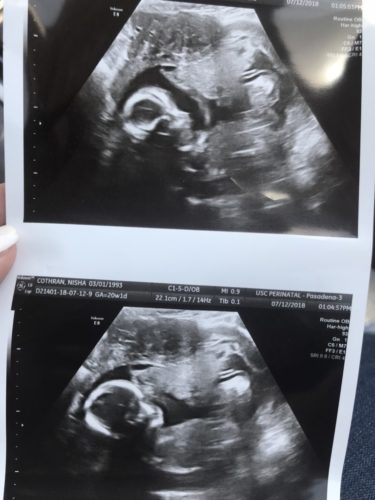 (I mean isn't she the cutest, ever!? Look at those cheeks!) 
Our 20 week ultrasound!
Phillip and I both felt so excited going into this appointment. Luckily, everything went well and the doctor didn't see any problems. I didn't realize how much we would be able to see! The doctor was even able to tell us that she doesn't have a cleft lip! How can they even see that!? We both know that getting good news at doctors appointments does not happen for everyone. We feel so extremely blessed to have a healthy baby girl! Since I'am now into our 21st week of pregnancy, I can't believe we just have 18 weeks left! I'm just so excited to meet her. We still don't have a name and I think it may be one of those moments where when we see her, we know! We have two names right now that Phillip and I both love, so lets just hope we can keep it to those two names!