I still can't believe it! The last seven weeks have been a roller coaster of excitement. We were actually bidding on houses the day we found out we were pregnant. I'm going to be honest, we weren't trying to have a baby. Our focus was to get into our new house and travel a bit and then have a baby. I really didn't even think we could be pregnant, I just thought I was stressed out about buying a house and just a few days late! But, you know what they say "you plan and God laughs." I couldn't find that anymore true! Phillip wasn't in the bathroom with me when I found out, and I kept looking at it multiple times to see if I was looking at it right. Is that really TWO pink lines!? I don't know, maybe I'm seeing double? Maybe I'm going to pass out, which is why I'm seeing TWO lines!?
Well… I wasn't! I immediately called Phillips name and showed it to him and he was so excited, maybe even a bit more than me! We both cried and hugged and cried more, didn't take long for Zena to make her way to us when she heard all the excitement and started jumping on us because she wanted in on the hug!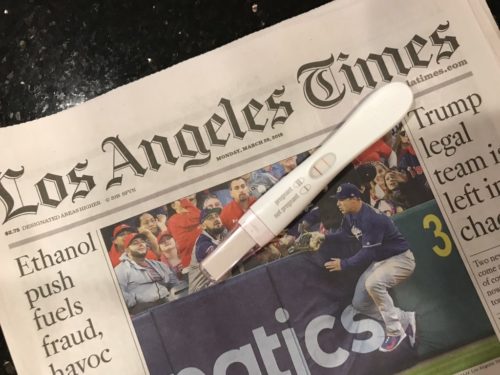 We were at my parents house when we took the test and my Mom knew immediately when she saw my face! (Now, you might think why did I take it at my parents? Well, like I said earlier, I really DIDN'T think we were pregnant, I was very stressed about finding a house and was just taking a test so I didn't have to think about it anymore!) We both cried and then went and told my Dad. I think between him and Phillip their excitement could have filled up the entire house. I don't think I even slept one hour the first night! I just couldn't stop reading articles and looking at doctors and Pinterest! LOL
The very next morning I called my doctor and she got me in by 8 am to make sure I was pregnant! She had the same news I had… I'am pregnant and the baby is due November 27!
Then the challenge… Phillip's dad was away on business so we had to keep it a secret because we had to tell them next! It was so hard! My mother in law would call me and I would ignore her phone call because I knew I would blurt it out! We were able to tell them about one week after we found out and they were SO excited, so was I now that I didn't have to keep it a secret! I wish I would have taken more photos when we told people, but I didn't even think about it!
A few weeks ago we went to the doctors to get our first official ultrasound and it was one of the top moments of my life! Phillip and I both had tears in our eyes, I just was so amazed that God has given us this child!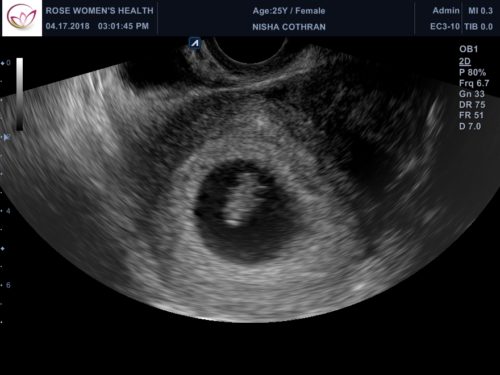 After we told both of my aunts, aunts, uncles, and grandparents! We got them shirts that said, "Cici" and "Kiki" because thats what they told me a long time ago they wanted to be called because "great aunt" sounded too old! The best part was, both of my aunts are born in November and thought I had made the shirts for them because underneath their "names" it read November 2018.

This has been the reason I have been so MIA lately. I'm already starting to show, so my jeans are not really fitting me and most of my clothes show my bump! I'm also completely exhausted, but I will do a first trimester post sometime this week and tell you all about it!
We are both so excited about this adventure and to have all of you there for the ride!
Make sure you subscribe to The Merchant Girl so you don't miss any baby updates!
XOXO,
NMC
Our little Zena!! She has been laying her head on my belly lately. But, I think she just thinks its some added height for her. I don't think she has any clue that a little human is going to be interrupting her "princess" role! haha
The dress I'm wearing is the DVF Zarita dress, I have it in so many colors! But, unfortunately DVF doesn't make it anymore, so I'm linking similar ones here.