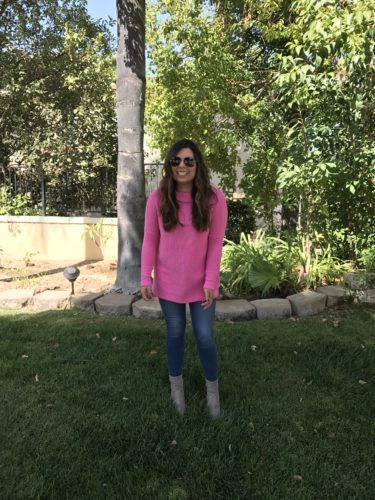 Happy Sunday! I have had such a crazy couple of weeks. Yesterday, my aunt and I hosted a baby shower for my cousin at my home. It was so great to have a girls day with my husbands side of the family and just hang out with them… but its a lot of work, which is why I have been so behind!
A fun fact about me is that I LOVE PINK! I believe its such a happy color. When I usually see a hot pink I think spring and summer time.. until I saw this beauty! Matching the bright pink with skinny jeans and grey booties made for a perfect fall outfit!
Another reason why I like to wear pink in October is to promote breast cancer awareness. My senior year in high school my friends and I joined Susan G. Komen and had a silent auction to benefit the charity. We raised more money than anyone had before in our school district. Since then, I have tried to be conscience of this month and really dedicate part of my time to it!
For reference, I'm 5'3 and this sweater hits me perfectly. I usually wear a small or medium, but this time I decided to order an XS and I'm so happy that I did!
I don't have a super long neck which makes it hard for me to wear a cowl or turtle neck type of sweater. This sweater is a funnel neck sweater and gives that extra room for people with a shorter neck… Also- I got a new curling iron, T3 curling wand! I'm obsessed! I have never done my hair as much as I have since I have gotten this curling wand! The actual curling iron has interchangeable wands with different sizes and types. My curls last for days, literally! I never thought I would be able to be that person! But, I love it!
These jeans are a staple in my closet and you will find that I wear them 75% of the time.
Happy Sunday and Happy shopping!
DM or comment me with any questions! I love to hear your feedback!
xoxo
NMC