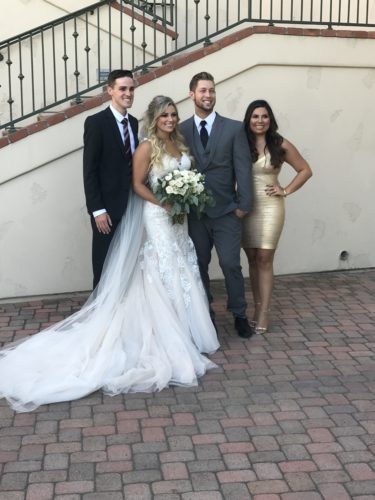 Happy Thursday! I love Thursdays… It may be because I work from my home office on Fridays so Thursday is a bit like my Friday!
I'm sorry this post took longer than expected, I was excited to see some of you messaging me asking me when I was posting it!
Here is the back story, Cody(the groom) I have known since we were three years old, that's over 20 years of friendship! We went to school together our entire lives until college and he was always like a big brother to me. Allysha (the bride) I have known for about 8 years. But, we weren't really friends when we first met. We were in totally different friend groups and really didn't hang out. Fast forward to today and I consider Allysha one of my best friends and Phillip and Cody get a long so well that I think Phillip is now closer to Cody than even I'am!
When Cody wanted to propose to Allysha he called me and asked me to go with him to pick out the engagement ring! It was so much fun and such a 360 to where it all began… three year old kids that were just out of diapers to one of us married and the other picking out an engagement ring! Once he proposed, they started looking at places to get married. When they went to South Hills Country Club (same place I got married) they knew it was the one. They chose a date and we started planning! Now, I was asked to help because my parents have been members there since I was little and I have planned my wedding and many other parties there throughout my life so I knew the staff and what we could do there.
We don't have any of the professional shots… so here are a few of my favorite moments!
I made sure we had breakfast and lunch in the bridal suite, the day goes by so fast that much of the time the bride and bridesmaids forget to eat!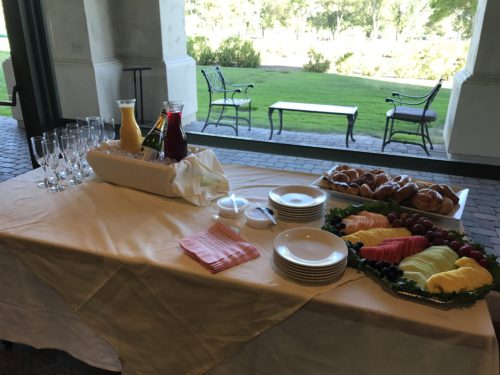 As a personal touch, I bought these napkins from Etsy and personalized them…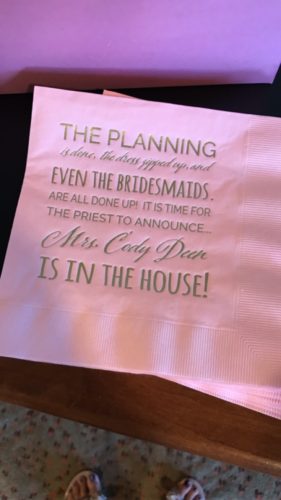 Keeping on a schedule during hair and makeup is extremely important. I printed out the schedule of the day as well as the schedule of hair/make-up so I could make sure we would not be late!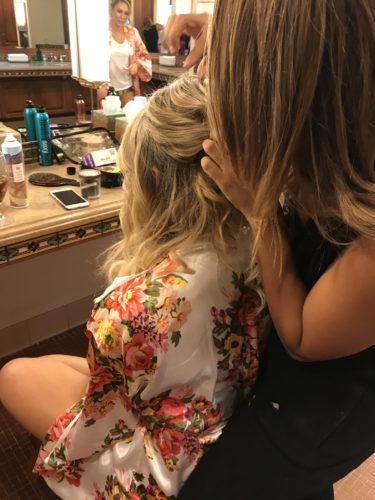 Make sure to RELAX! The reception was upstairs compared to where we all got ready. I'm sure I went up and down those steps 100 times last weekend. But, every time I opened the doors to go into the room where Allysha was getting ready I would pause and make sure I didn't look stressed… even if there was something going wrong, I didn't want her to know!
When I got married my two moments where I was the most nervous was, right before our first look and right before I walked down the aisle… For her first look, Allysha walked down the same staircase I did and met Cody!
Right before the ceremony… it was such a awesome moment!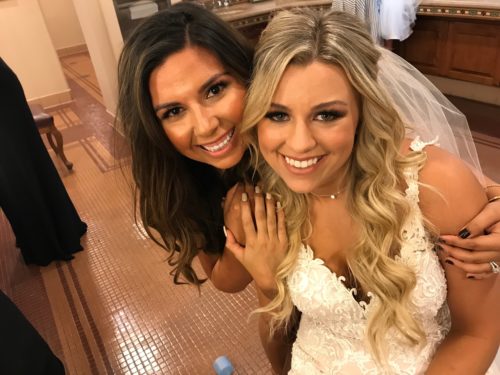 Wasn't she the most beautiful bride!!
After the ceremony, we took a golf cart to a different part of the course for them to take photos at… Phillip took this one and I'm obsessed. I'm also super sad that Phillip and I didn't do this!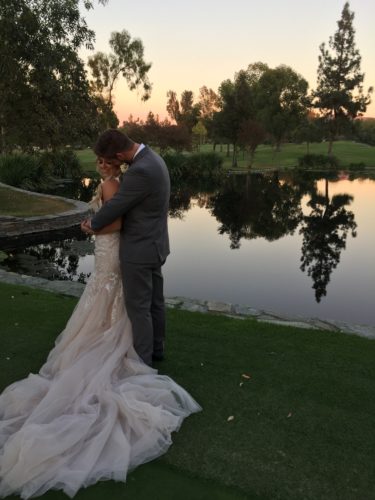 That's all for now!
I will be posting my favorite boots and booties under $150 tomorrow! They are SO good!
xoxo,
NMC