My Top 10 favorite items of this sale for women! I will be posting a kids and mens one as this week goes on! I can't believe this stuff is still in stock so if you see it in your size then make sure and grab it!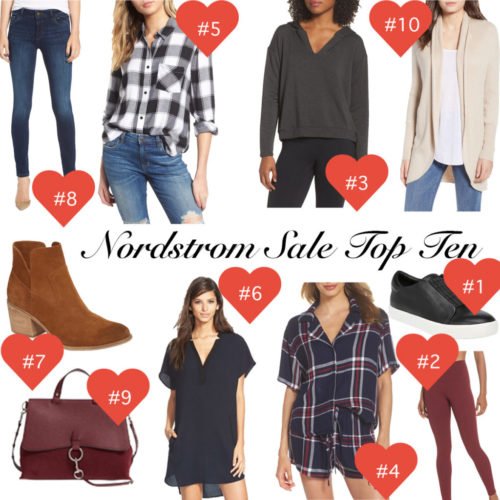 #1
My favorite item I got on this sale are these sneakers! I have a few pair of Vince sneakers and even though I really like them, they can be heavy and a little clunky to wear all day! I was pleasantly surprised when I tried these on at the store and they were light and SO comfortable! I stuck with the classic color and got black, which they are still in stock in all sizes!

#2
My second favorite item are these leggings! For under $35 they are a total steal! They come in three colors and I may have bought all three… They are high waisted and soft so they will be perfect after baby girl is born!

#3
This hoodie is a cozy one and perfect for fall and winter! I love buying things that can turn into go to items! This comes in 3 colors, but the black was my favorite with my new Vince sneakers!
#4
These are a splurge, but if you love pajamas as much as I do- then they are worth it! I sized up in these to make it comfortable with my bump and also comfortable for after baby is born!


#5
This plaid shirt probably should have been higher on my list because for $31 this top is AMAZING! All of these are extremely soft and wash very well! I normally wear a size small in these but bought the red one in Medium and this black/white in large! The large and the medium still fit over my 5 1/2 month belly!


#6
I wore this dress last week to Mastro's for my Dads birthday! I love it! I bought it in a size Medium and it fits my belly with still a lot of room to grow! I found the white to be a bit see-through but if you have lighter skin you should be fine!
#7
My favorite part about these booties is the color! I think they are the perfect color for fall and the heel is low enough so that you can wear them with a bunch of different outfits! These are under $80 and run TTS.
#8
Seriously, my favorite denim brand! I have gotten my entire family hooked on this brand! They run one size too big, in my opinion- so size down! They are soft and always make our legs look long!
#9
My aunt and I both bought this handbag during pre-sale! She bought it in this burgundy color and I decided on black! I always try to find a good black handbag so when I saw this, I knew I had to get it! You can also wear it as a crossbody!
#10
The perfect cardigan for any outfit! Jeans, dresses, shorts! I have worn it all with last years version of this cardigan so I had to snag this one in this cream color! For $31 I bought this in a couple of colors! They will go great with my leggings and sneakers!