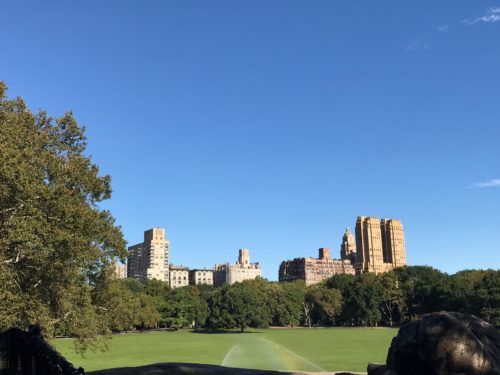 Good Morning!
I hope everyone had a great weekend! I had such a great time in NYC. Between eating, shopping, and walking everywhere it was nothing short of fabulous! I was lucky enough to take this trip with my Mom, Grandma, and Aunt! It was so much fun to spend quality time with them!
I'm going to do three posts on my NYC adventures, this way I'm able to give you all the information and my tips and tricks!
First off, if you live in SoCal the JetBlue flight from Long Beach to JFK is the way to go! I love LAX, but there are so many flights that come in and go out everyday that it takes such a long time, we were able to valet our car (with a free car wash) and get all checked in and to our gate within 15 minutes!
Here, is my redeye airport look-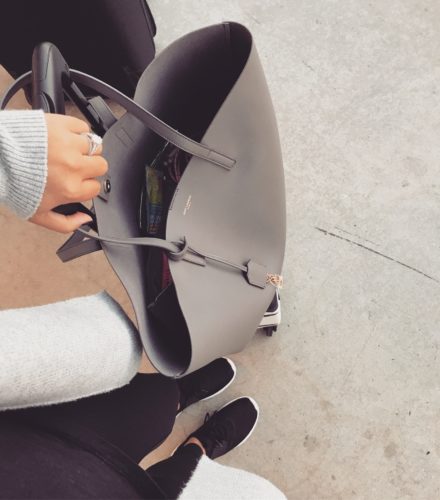 Nike Sneakers

Leggings: Lululemon Align Pant
These are my absolute favorite leggings, I have them in multiple colors. I purchase the Align, 7/8 (I'm 5'3 so these go perfectly to my ankle!)
T-Shirt

I love this Vince top, its a pricey item but I've had it for years and it still looks like new!
I also included the link to my other favorite t-shirt, these are more price friendly.
Cardigan

TOTE

I love this bag! I was hesitant at first, but after using it for travel this weekend it has become my go to handbag! It comes with a zipper pouch (that you can remove and put in other purses) that can easily fit cash, credit cards, etc. I actually used this as my wallet on this trip and I loved it!
DAY ONE: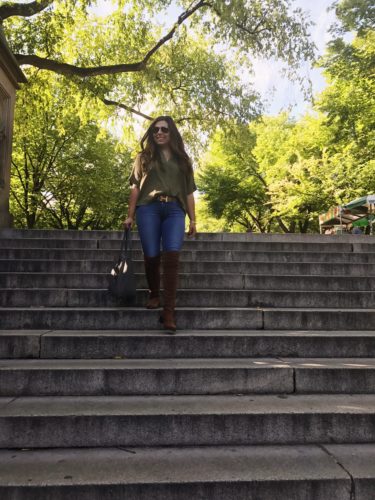 This outfit… this day… everything was perfect! We decided that we would have a low key morning/afternoon. We all just wanted to explore Central Park and not have any plans!
I love this outfit and it was so comfortable. My favorite thing has to be these boots… I have searched for two fall seasons for the perfect OTK boots. Being 5'3, its been hard to find a pair that don't go to my upper thigh! These went perfectly to my mid thigh. I also decided that I think having a slight heel is better for my height compared to a complete flat boot. I walked around all day in these and they were so beyond comfortable. I now wish I would have bought them in grey too!
Boots: OTK Boots
Jeans

Similar top


http://shop.nordstrom.com/s/tory-burch-reversible-leather-belt/4581050?origin=keywordsearch-personalizedsort&fashioncolor=CAMELLO%2F%20GOLD
Night: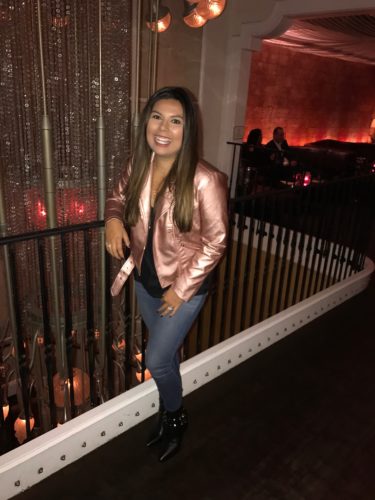 OK guys… I will just tell you how excited I was that Giuliana Rancic herself actually commented on this and said how amazing it is… So, that means that you should all go and purchase it now!
But, really… this jacket is amazing. I'm actually buying another color today because I love it so much! Its beyond comfortable and feels amazing.
Jacket: Leather Jacket
Jeans: Same as above
Booties


I bought last years version of these and I love them! I actually wore them almost every night on this trip! If you're going to splurge on any item this season… this would be it!
Tonight's dinner was at Beauty & Essex in the Lower East side… I come here every time I'm in NYC. We always go up to the bar first and have a drink and usually french fries (they are SO good!) My favorite item on the menu is the Empanadas and the onion rings! Everything is tapas style so you share with your table… its one of my top recommendations.
I hope you love all of my looks from my first day in NYC. I will be posting Day Two tomorrow…
Have a good day!!
Nisha M. Cothran