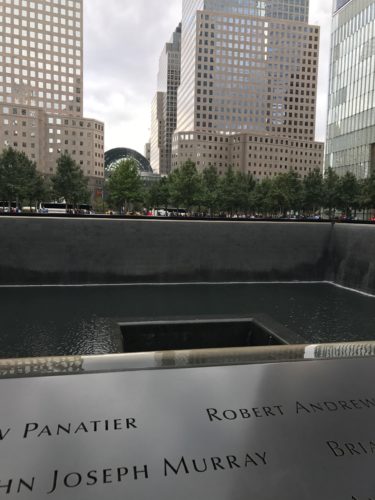 Day two of my NYC trip is here!! I have to tell you, this was probably my favorite day!
We stayed at the beautiful London hotel in a two bedroom suite, we had such a nice living room to hang out in and a great view of the city! Today, was our big walking day! We walked from our hotel (on 57th and 7th) all the way to Ground Zero, about 4.5 miles, then to ABC Kitchen (in lower midtown,) then to Lululemon on 5th Avenue!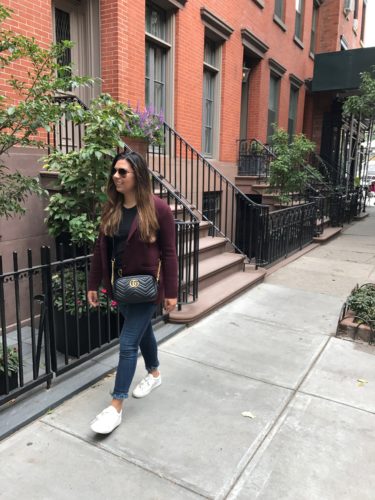 Day Two Outfit
J.Crew Sweater

This was one of my NYC finds! I love love love this cardigan! Its light weight enough to wear all the time, but structured enough to still give you some shape. This was a perfect addition to my outfit and a great staple for my work wardrobe as well. I highly recommend this and its 40% off right now!
The BEST Jeans

Oh, how I love these. They are so comfortable and flattering and the extra frill at the bottom is perfect for this season. These are also on sale right now, so snatch them before they are gone. For reference, I did have these shortened. If you have a Nordstrom card and purchase them from the link above they will alter for free(my fav perk of having a Nordstrom card!)
Sneakers

These are not my exact sneakers, the ones I have are from N state and I think they sold out pretty fast at Nordstrom because I haven't found them since. I did just order these because they are super cute and a great price point… So I will let you know how they feel!
Alternative Belt

Belt: https://www.gucci.com/us/en/pr/women/womens-accessories/leather-belt-with-double-g-buckle-p-400593AP00T1000?position=34&listName=PGUS4Cols&categoryPath=Women/Womens-Accessories/Womens-Belts
I love this belt… I got very lucky and literally got the last one at Neiman Marcus. I can't wait to wear this in the fall and winter with jeans, belts, skirts… everything. Its such a great staple piece to your wardrobe.
Gucci Crossbody

I will tell you I went back and forth with the small and mini camera bag, but I finally decided that the crossbody bags that I have are either big or way too small and this would be a great size. It fits everything! My wallet, Iphone 7 Plus, sunglasses, lip gloss, keys, a mini hair brush, and a small makeup bag that I keep an extra pair of contacts, contact solution, tampon, advil, and tums in! This was a great bag for the weekend and I have continued to use it even after I got home!
Sunglasses

The sunglasses that I wear all the time are actually from Chanel, two or three years ago. I love them so much that I find it hard to buy a more recent pair. But, I have tried on these Gucci glasses and they look and feel almost exactly like the Chanel ones.
Now… onto my FAVORITE meal of the entire trip! ABC Kitchen is now my favorite restaurant in NYC. This was my second time going and honestly, next time I'm back in the city I will be going for lunch and dinner!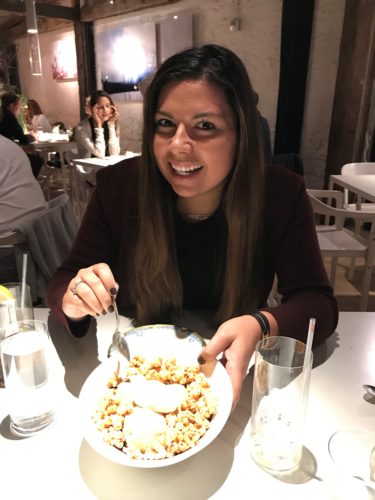 Go to my instagram to view the goodness in this photo! @merchantgirlofficial – I'm telling you, this was the best dessert that I have had in a long time! They also give you the best bread before your meal… oh my goodness! I'm making myself hungry!
I'm going to take a second and just tell you that if your a Lululemon fan and will be in NYC go to their 5th avenue store!! Oh my, I was told its their largest store in North America and boy is it beautiful! This is what I got…
These crops: https://shop.lululemon.com/p/women-crops/Align-Crop/_/prod1960137?rcnt=0&N=7yr&cnt=25&color=LW6AKAS_030720
I'm telling you… I LOVE these Align pants… and I love this purple color that they have right now…
Vest: https://shop.lululemon.com/p/womens-outerwear/Extra-Mile-Vest/_/prod8690647?rcnt=4&N=8bp&cnt=14&color=LW4AM1S_0002
Every year I want this vest and every year by the time it gets cold enough in So Cal to get one they are sold out in black. I also have this in navy blue from a previous season and I love it! But, there is something about the black that is so classic and chic. I would suggest you buy this soon, before it sells out!
Tank: https://shop.lululemon.com/p/women-tanks/Knot-A-Problem-Tank/_/prod8780149?rcnt=26&N=81a&cnt=50&color=LW1AVHS_4344
This is one of those tanks where it looks much better on than online! I love it and I'm already thinking about my next color…
I did get one t-shirt that is exclusive to NYC and not sold online… I will post of a pic of it.
The greatest find at Lululemon will be posted tomorrow!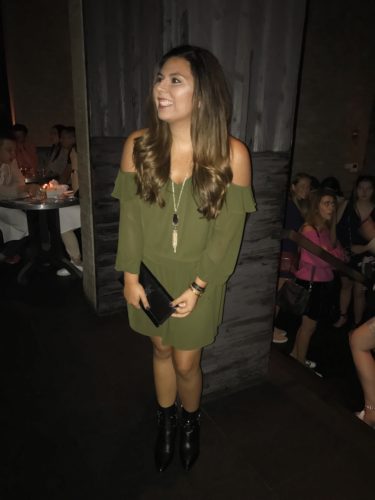 Night Two
On Night Two we ate at Buddakhan next to Chelsea Market. I come here every single time I'm in NYC. I absolutly love it… Before I get to my outfit, these are my favorite food choices!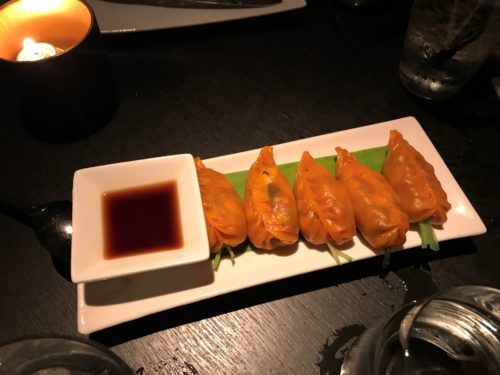 These carrot dumplings are my FAVORITE- we always order at least two of these because everyone loves them!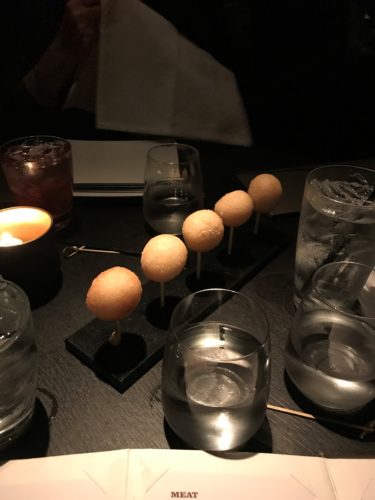 Cauliflower lollipops…. imagine cauliflower rice and cheese mixed together and breaded… Ok, that might not sound as good as it actually is!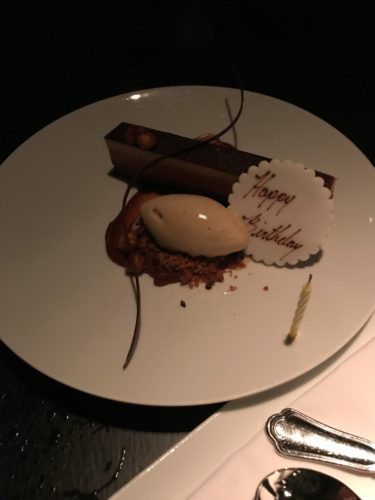 Because we were celebrating my Aunt's 50th birthday they brought out a special dessert at the end. OMG this was good. I have to be honest, I wasn't sure what their dessert would taste like. But, we ate this entire item! Its their 3 layer chocolate cake…
Now, onto my outfit. I'm wearing the same Valentino booties that I wore in my NYC night one outfit!
Booties

Dress: https://www.saksfifthavenue.com/main/ProductDetail.jsp?PRODUCT%3C%3Eprd_id=845524446934629&R=889310084401&P_name=Ramy+Brook&Ntt=ramy+brook+dress&N=0&bmUID=lXyOfJW
I love Ramy Brook! Her dresses are always comfortable and complementing… I have had this dress for about a year so they didn't have the same style, but this one is similar, in the same color and ON SALE!!!
Necklace

I wear a lot of Kendra Scott… and this is one of my favorite pieces. I'm able to dress it up or keep it casual.
Clutch

This clutch is one of those pieces of your wardrobe that you will literally have for a lifetime! I have owned this one for about 8 years! I have included the link to the updated version of my clutch.
This is all for today! Check back tomorrow for Day 3 in NYC!