I'am getting SO excited about Spring, everything about it is making me happy! My birthday is just a few days away and I'm totally having cake! Actually, I have requested for my Mom and Phillip to make me an ice-cream cake! Doesn't that sound SO good! yumm…
OK, but onto the entire reason of this post! TOPS. Is anyone else having a hard time with finding good tops that aren't $100+? I have found my favorite ones!
#1
First up, this beauty! I just got this in and can't wait to style it for you guys this week! It is probably my favorite top in my closet which is why I haven't worn it yet.


#2
I absolutely LOVE this top and it is only $22.99! I was walking around Target and saw this in their new line, Universal Thread! Its a great quality and fit! I'm wearing a size small and its a tad short if you're super tall. I'm 5'2 and I think it fits me perfect.

GINGHAM TOP
#3
I know I share this top ALL the time, but I love it! It is still 20%, which makes it $15 and also comes in a few different colors. This is the best top under $20 that I own!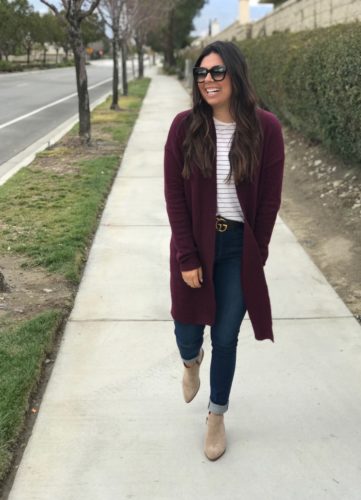 STRIPED TOP

#4
There is something about this top that I just really enjoy. I love the color and I think that the bow just adds something extra! Great spring/summer find!
#5
This is going to be so cute with a jean jacket and a pair of white jeans. Can you tell I love this color? Ahh! LOVE LOVE LOVE!
#6
This is called "The Perfect Shirt" and for good reason! It comes in a few other colors and I actually want them all! It is so comfortable and looks great tucked in or tucked out. Great find for such a great price!

#7
How cute is this!? So, fun for a afternoon with a cute jacket and jeans with sneakers!
#8
I can't wait to wear this top with shorts this summer! It also comes in pink and I really think I should buy that also!
#9
These ruffles are EVERYTHING! I'm excited to wear this tucked into a jean skirt!

#10
My favorite part of this top is that it is simple, but yet could easily be worn dressed up! Such a great find and also comes in a few other colors including a soft pink!
I'm going to be doing a GIVEAWAY this week for my birthday!! WOO-HOO!
Have a happy week!
XOXO,
NMC