Week four and the last week of Phase 1! I really can't believe we are already 1/3 of the way finished with this program! I'm already starting to think, "what am I going to do without these workouts!?" This week was more challenging because I went to Florida for a family reunion. I knew that I wanted to have fun with my family, but also wanted to stick as close as I could to the program. To prep for this trip I made Kodiak Cakes before hand and froze them. I also bought packets of Justins Almond Butter(love this stuff) and a couple travel size packets of peanut butter! I never wanted to worry about making a food fit! I just wanted to be prepared. I also made travel snack size pouches of almonds and pistachios for the airplane and to keep in my purse! I can't have pretzels so I didn't want to be starving on the plane and not have anything to eat but pretzels! I will tell you on the Saturday night I was with all my cousins and totally had a slice of pizza and I don't regret it at all! The next morning I woke up did my workout for the day and stayed on my nutrition for the entire day! Usually, if I "cheat" I end up having another cheat day and another and another until everyday is a cheat day! HAHA
NOW,
Going on vacation while being on this 80 Day Obsession journey was rough! But, I survived! I always stayed prepped and ready for any meal or snack and brought a water bottle with me everywhere so I wasn't tempted with having a soda! I get a re-feed day next week and you have no idea how excited I'am! I'm going to eat sushi AND a burger, probably a chicken burger though! I'm SO excited. I will make sure and fill you in on my first re-feed day on February 21!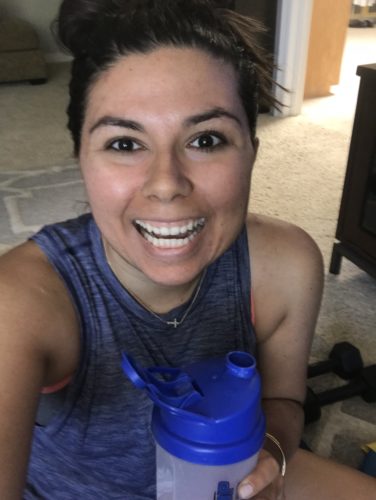 Those super amazing workouts that leave you with no make-up and a smile! I'm serious… this program- changes lives!
THE WORKOUTS
Since this was the last week of Phase 1, I really embraced these workouts! It was nice to know what was next and how my body was going to react. I also noticed my weights have gone up a lot! In the beginning of this program I was super weak and really just using 5 and 8 pound weights. Now, those are rarely even touched. I'm starting to feel myself getting stronger! I still love Cardio Core, it kicks my butt and totally challenges me!
Pretty sure this is the first time I ever worked out in a sports bra and leggings!
WEEK FOUR RESULTS
With traveling this week, I really wasn't thinking I would loose any weight at all! But, I did! I lost .50 pounds, I also lost 4 inches! So, so far on this program I'm down 6 pounds and 20 inches!!! WOW! I can tell my clothes are fitting me so so much better and the best part is, is that I'm feeling AMAZING! I don't really have grumpy moments, well not as much as I was having. My habits have totally changed! I don't reach for crackers or pretzels anymore, but almonds and cucumbers. I love it!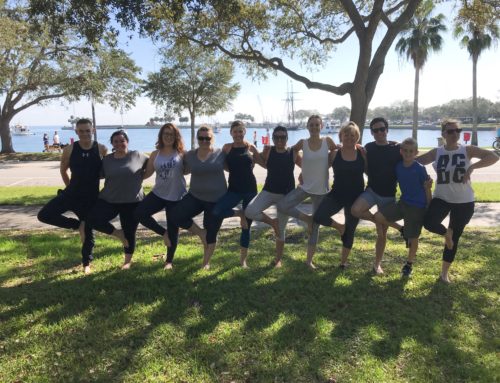 Our family YOGA CLASS! Also, I'm thee most un flexible person ever! I can't believe I made it through this, but my family is the best!
MY VICTORIES
Getting all my workouts in this week was huge for me! We took the red eye into Florida on Thursday night and arrived on Friday around 10 a.m. By the time we got to our hotel and ate some lunch it was 2 p.m. Honestly, I didn't think I would workout that day. I had planned to use Friday as my rest day and workout on Sunday. But, it was hard for me to miss it. I kept feeling FOMO! hahaha So, after lunch I got back to our hotel room and my aunt and I went to the gym and did leg day! It was hard and awesome all at the same time!
That night we went out and got back around 1 a.m. We had a family yoga class at 9:30 that morning and I really wanted to get my Cardio Flow workout in before yoga class. My alarm went off at 8 a.m. and I laid in bed for about 20 minutes and decided to get my lazy butt out of bed and went to the gym! THAT WAS A VICTORY FOR ME! I went by myself with no motivation from anyone else around me, it was FOR ME! I officially turned into my mother at that moment and was SO proud of myself!
FOOD TIP
This week I bought a Costco size container of nuts and make snack size pack of different nuts and some even put dried nuts in them! It was a great snack for me, especially when I was traveling! It also saved me so much money compared to having to buy the individual packets from Target!
I'm so looking forward to this next week and the results I get to share with all of you!!
XOXO,
NMC